Meet The Team
Brian Schield, Fire Consultant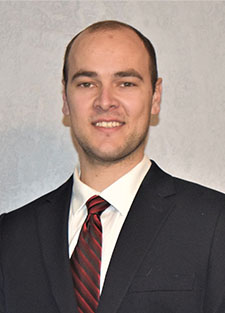 My love for the fire service began at a very young age. My father and uncle were both been career firefighters and I regularly visited the fire station which became a second home for me. In 2013 I joined Midwest Fire Consulting Group as a Fire Consultant where I shadowed investigators for many years. I have performed numerous fire investigations to this date and continue to gain more knowledge of the ever-changing fire investigation field. Apart from my investigative duties, I am in charge of storage of evidence for Midwest Fire and keep a detailed catalog of all evidence coming in and out of our warehouse.
When I was old enough to apply for a firefighting position, I tested for my hometown of Belleville's fire department. I was hired as a professional firefighter in the city of Belleville in February of 2017. Some duties on the department include fire inspections, fire suppression, and investigations. The city inspections allow me to get a first-hand look at different construction types and what occupancies occupy certain buildings. Fire suppression has given me the knowledge of the flow path of fire and how it moves throughout a structure. I can observe how fire reacts to different materials and how those materials intensify the fires growth.
Since becoming part of the department, I have attended University of Illinois's Illinois Fire Service Institute where I have completed numerous classes related to firefighting. In August of 2018 I completed the University of Illinois Fire and Arson Investigation Modules I, II, and III. After completing all of the required testing, I became a Pro Board-Certified Fire Investigator. Because of my training and experience, I was appointed a position on the Belleville Fire Investigation Unit as Investigator. I conduct detailed investigations for them whenever I am called out.
I currently attend Eastern Kentucky University seeking a Bachelor's degree in Fire, Arson, and Explosion Investigations. I am a member of the International Association of Arson Investigators as well as the National Association of Fire Investigators. I regularly attend conferences and complete courses related to this field to expand my knowledge and bring the best quality to all of my investigations. All of my investigations are done using the scientific method and systematic approach. I strive to provide quality opinions by staying up to date on the ever-changing field of fire science.
Contact
Brian Schield
PO Box 1096
Murphysboro, IL 62966
(618) 687-4900